Elephant Seals in Cape Town
Have you spotted the Elephant Seals along the Cape coastline? There are a few different species of seals that can be found along the South African coast. The charismatic and playful Cape Fur Seal is by far the most popular and commonly seen seal species. These ocean locals are frequently spotted along the Cape Peninsula and False Bay coastline. However, Sub Antarctic fur seals, Leopard seals and Southern Elephant seals can also be seen from time to time along the South African coast.
ABOUT ELEPHANT SEALS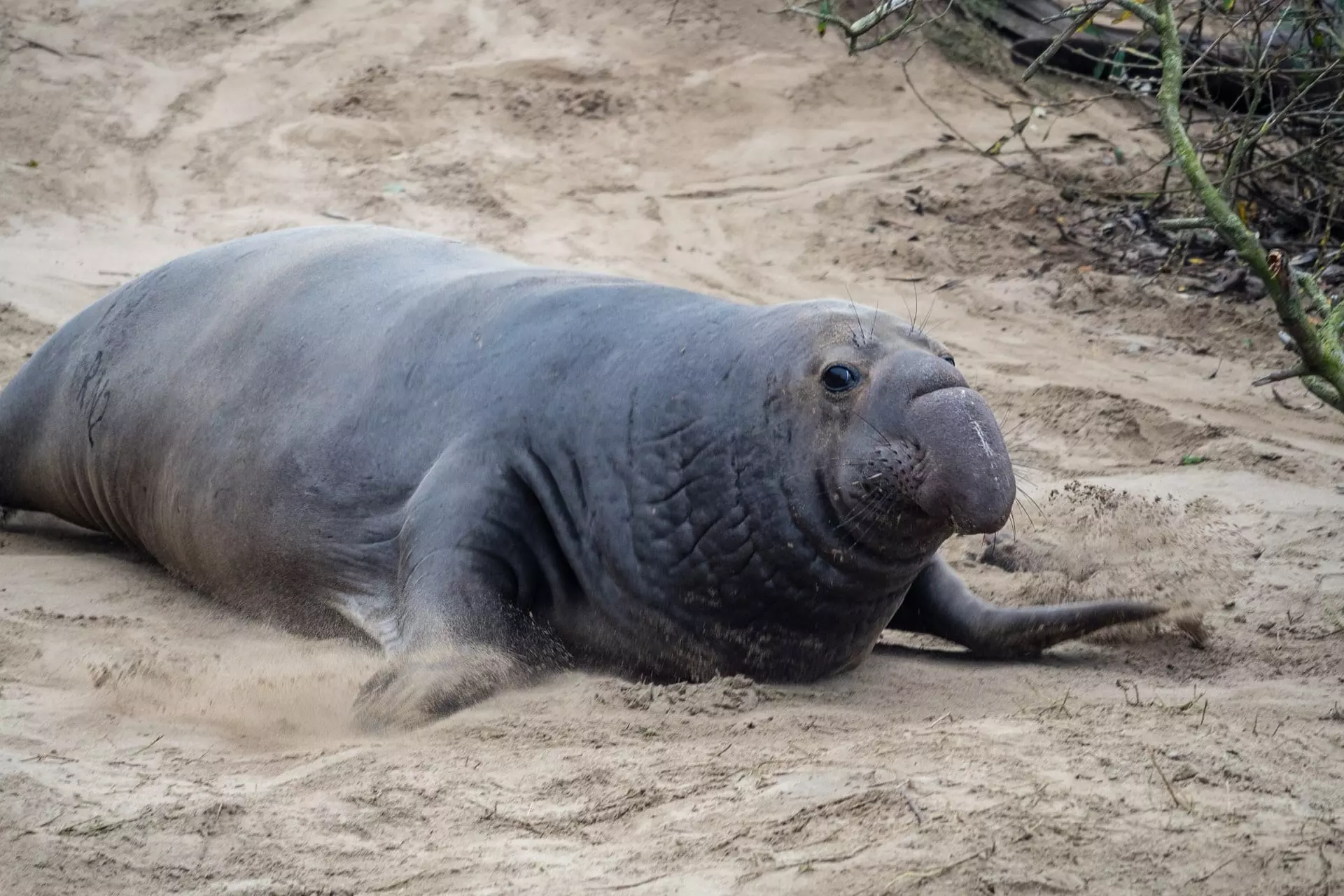 There are two types of Elephant Seals, namely the Southern Elephant Seal (Mirounga leonine) and the Northern Elephant Seal (Mirounga angustirostris). The Southern Elephant Seal is considered the largest seal species in the world.
The male Elephant Seal measures approximately 6m in length and weighs up to 3.7 tons. They are estimated to be up to 10 times bigger than their female counterparts. The Elephant Seal gets its name from its unmistakable swollen, proboscis-like snout of the male, which is used to produce very loud roars, especially during breeding season. Female Elephant Seals are drab brown in colour and lacks the proboscis. They are also chubby in appearance compared to the male Elephant Seals. Elephant Seals feed mostly on Squid, fish, sharks, rays, ratfish, molluscs, crustaceans, krill, and algae.
Southern Elephant Seals primarily breed on main land sites and islands stretching from the Antarctic continent to Patagonia. They can typically be found swimming around the sub-Antarctic islands about 2000 kilometres south of South Africa. These majestic and fascinating ocean beings typically haul out twice a year to moult, mate and give birth. While they prefer gradually sloped, sandy or pebbled beaches, they have also been spotted on boulders and rocky shores. Southern Elephant Seals are known to find a beach somewhere between Antarctica and South Africa on which to moult.
ELEPHANT SEALS IN CAPE TOWN
The Prince Edwards Island and the Tristan da Cunha group are the two closest colonies of Elephant Seals to the South African coastline. Elephant Seals are extremely rare in Cape Town. However, a few stragglers find their way to South Africa each year and join the Cape Fur Seal colonies. There are roughly around 10 sightings a year of this species on our coastline.
Two Elephant Seals in particular have made themselves right at home in the Cape. So much so that they have captured the hearts of countless Cape Town locals and even earned themselves their very own names. Solo is a charming Elephant Seal that resides in Plettenberg Bay and Buffel is a regular in the Cape waters and loves to explore various regions of Cape Town.
Buffel the Elephant Seal
Buffel, as the seal is affectionately known to locals, has fast become somewhat of a Cape Town celebrity in his own right, and this year Cape Town's favourite seal is back on our shores for his annual moult.
**Note: What is moulting? Moulting is a process during which Elephant Seals shed a layer of their skin and hair. The moulting process takes approximately 4 weeks/1 month. This is done to maintain healthy skin and is an adaptation to their extended deep, cold dives. During their deep dives, Elephant Seals limit the blood flow to their skin and extremities. Most of the blood flow is sent to their brain and core organs. In order for Elephant Seals to maintain a healthy pelt, they have developed a strategy which includes spending a month on a beach, in order to allow blood to circulate continuously past the skin, while ensuring that there isn't excessive loss of body heat. During the moulting process Elephant Seals spend a large portion of their time on the beach or buried in the sand. Their old skin becomes incredibly itchy and they typically don't swim, mate, or eat. They simply survive on their large amounts of stored body fat. Elephant Seals are particularly vulnerable during this time, and visitors and residents are advised to steer clear of these marine animals as they undergo the process of moulting.
Buffel is a 1200+kg male Southern Elephant Seal that is said to have arrived in Cape Town in 2014. Since gracing the Cape coastline with his presence he has been showing up at various beaches around the Western Cape. In 2019, Buffel was often found lazing around Fish Hoek Beach along the False Bay coastline where he made himself a nesting area in the popular stretch.
He was also frequently spotted on the famous Duiker Island in Hout Bay, where, along with his fellow Duiker Island co-inhabitants the Cape Fur Seals, he spent most of his time sun-bathing on the rocks, taking an occasional dip in the ocean to cool off or lying in the warm sand. Visitors and spectators watched in awe as Buffel shifted and swirled around in the sand using his flippers to throw sand over his body as protection against the hot Cape Town sun. Buffel can now be spotted at Buffels Bay in Cape Point.
No one really knows why Buffel has chosen to grace Cape Town with his incredible presence, yet we are tremendously thrilled to welcome him back to our shores year after year. Over the years he has become very relaxed in his surroundings, even with the higher number of people around. Buffel's laid-back and relaxed attitude gives visitors the unique opportunity to witness this fascinating and amazing ocean being in all his glory, provided they stay well behind the erected barriers. It is incredibly important to be very respectful of his surroundings.
Solo the Elephant Seal
Solo is an enormous Elephant Seal male who resides with the Cape Fur Seal colony on the Robberg Peninsula in Plettenberg Bay. Although several Elephant Seals have been recorded in Plettenberg Bay over the past 10 – 15 years, Solo is the most recent Elephant Seal inhabitant and is believed to have arrived in Plettenberg Bay in 2011. Since then, he has been returning to the Robberg Peninsula on a yearly basis. It appears that he arrives shortly after moulting and remains in Plettenberg Bay for several months thereafter. Solo can often be seen sleeping on the mountain baking in the glorious Cape sun, or entertaining guests visiting the Robberg Peninsula by splashing in the water and showing of its beautiful nature and cool tricks and twirls.
If you do decide to go and experience this rare sighting of an Elephant Seal in Cape Town, we urge you to be extremely respectful of their surroundings and stay behind the cordened area. As you'd typically need to travel to the Antarctic or sub-Antarctic to see a seal like this, seeing a magnificent Elephant Seal in Cape Town is something truly remarkable and a once-in-a-lifetime experience you won't soon forget.
FASCINATING FACTS ABOUT ELEPHANST SEALS
Elephants Seals are the deepest divers of the seal world and are beaten only by some whale species amongst all marine mammals.
They are the largest species of Pinniped on the planet. At full size, Elephant Seals can weigh a maximum of 5000 kg's and be 6.8m long.
Southern elephant seals can travel up to 33,800 km per year – This is the longest known migration for any mammal.
They are among the seal species that can stay on land for the longest periods of time. This is mainly owed to the fact that they can stay dry for several consecutive weeks each year.
Southern Elephant Seals can dive at depths of 400 to 1,000 m for more than 20 minutes to hunt squid and fish. Southern Elephant Seals are the deepest diving air-breathing non-cetaceans and have been recorded at a maximum of 2,133 m in depth.
Southern Elephant Seals spend almost 90% of their lives in the water.
The trunk-like nose of Elephant Seals serves two main purposes: Males use the proboscis to generate loud roars to fend off other males, especially during breeding season. Secondly, both male and female Elephant Seals use their trunk-like nose to re-absorb moisture during their mating fasts.
Elephant Seal males can weigh up to 10 times more than what their female counterparts weigh. This is the greatest weight disparity between sexes of any mammal.
https://secretafrica.com/wp-content/uploads/2020/10/Elephant-Seal-Cape-Town-2.jpg
1280
1920
Bianca Bunge
https://secretafrica.com/wp-content/uploads/2019/04/Secret-Africa-Landscape-Logo-SM-AFRICANEW.png
Bianca Bunge
2020-10-07 12:38:01
2020-10-15 15:02:26
Elephant Seals in Cape Town